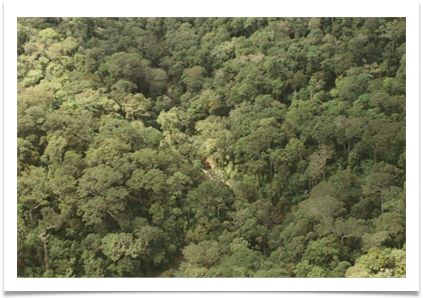 On the trail to Headquarters of the ECLGA (East Central Luzon Guerilla Area) on Mt. Macabot, Rizal, Philippines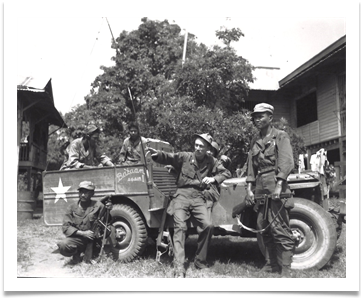 Ramsey's Communications Guerillas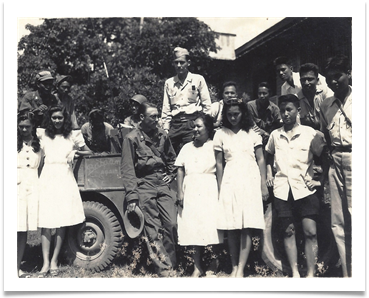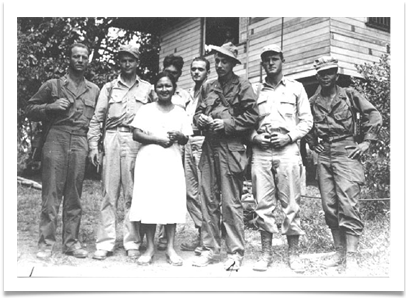 Intelligence Officer Mona Parpana w/Ramsey and Staff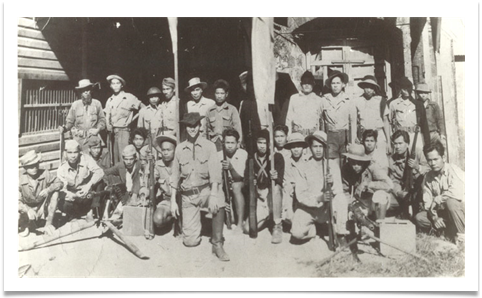 Lt. Ramsey's HQ security with Capt. Jimmy Carrington in command
Ramsey and John Boone after receiving the DSC from General MacArthur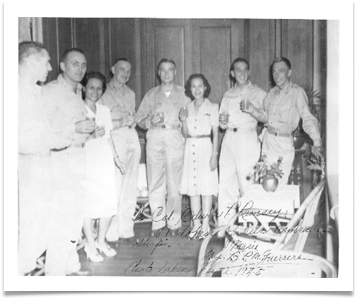 Phil. Army Chief of Staff and Guerilla Maj. Guerrero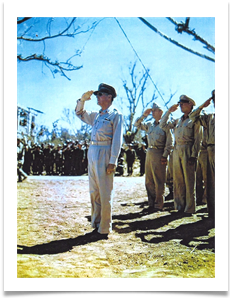 March 7 1945 -- Gen. MacArthur in Corregidor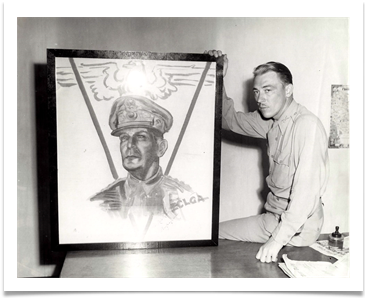 Flag made by Ed's ECLGA depicting Gen. MacArthur, now on permanent display at the OMA Museum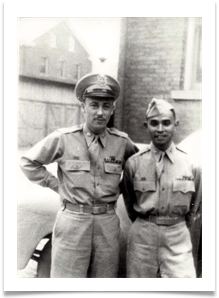 Col. Tony Chanco who gave Ed his memorable cane from his grandfather and has Ed's name engraved in 1948 with Ed at Ft. Riley, KS CT.GS School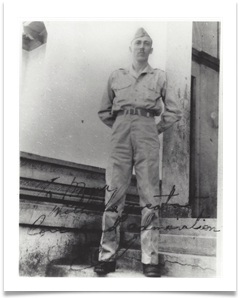 Caption reads: "With great courage and admiration, Ed. Taken in 1945, dedicated to one of his men, perhaps Col. Tony Chanco ("Manny" or "Manuel")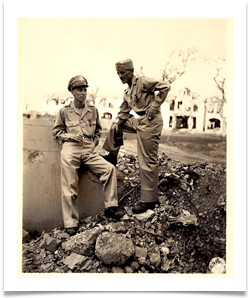 Amidst the rubble of Manila, Ed stands with Major John Boone, one of his commanders. Both received the Distinguished Service Cross from MacArthur on June 13, 1945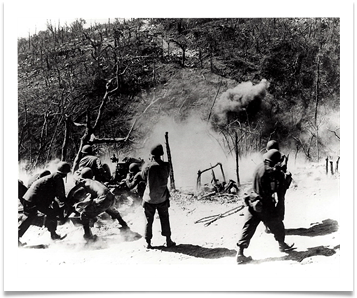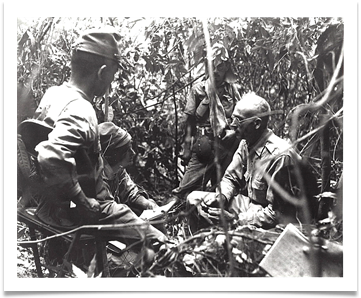 Col. Hugh Straughn is captured in 1943 as the Japanese created a "wanted list" of American Guerilla leaders considered "War Rebels." To the Japanese they were bandits, and when captured were tortured mercilessly and beheaded.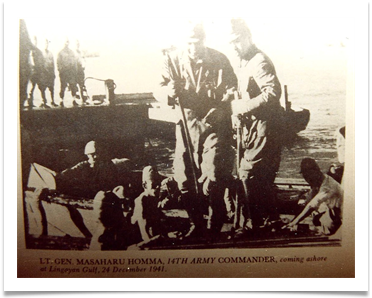 Lt. Gen. Masaharu Homma, 14th Army Commander, coming ashore at Lingayen Gulf, December 24, 1941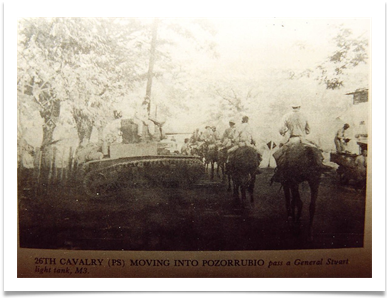 26th Cavalry Philippine Scouts moving into Pozorrubio pass a General Stuart light tank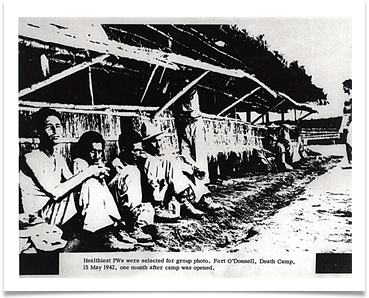 The healthiest Prisoners of War were selected for this group photo. Taken at Fort o'Donnell, Death camp, May 15, 1942 one month after camp was opened.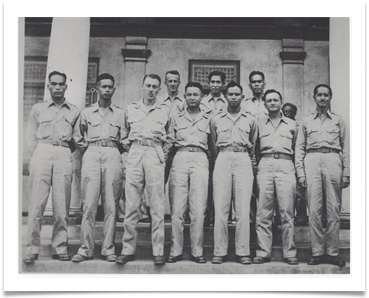 Ed writes: "Most of my Senior Staff. only my G-2 Col. Bonoan, was missing in picture. He was ambushed and killed during our withdrawal from the Headquarters on Mt. Balagbag, a great loss."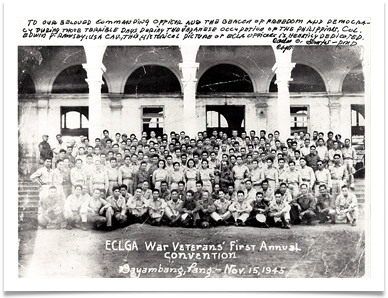 A priceless document dedicated to Ed by the ECLGA War veterans in 1945 at their 1st Annual Convention in Bayambang, Pangasinan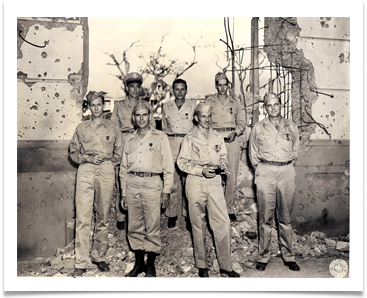 Manila 4/45, Roger Lapaham, Ed, Gyles Merrill, Alvin Faretta, John Boone, Ray Hunt, Bernard Anderson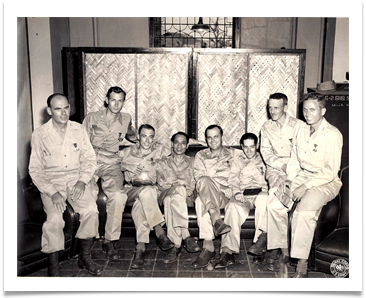 Manila 1945, Ed is 3rd from left, Maj. John Boone is 2nd from right, center is President Manuel Roxas, 1st President of Philippines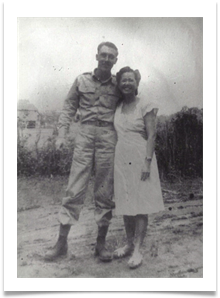 Ed described ECLGA staffer Ramona Snyder as one of the smartest intelligence operatives he'd met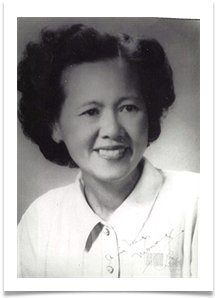 Ramona Snyder, photo ~1945
(Click on any image below)

WWII - The Philippines
| | |
| --- | --- |
| | |
| Communique between Gen. MacArthur and Col. Ramsey | Communique between Gen. MacArthur and Col. Ramsey |
| | |
| Letter from President Truman to Ramsey at Hotel Lassen, July 14, 1945 | Letter from Ramsey to MacArthur regarding enemy atrocities |
| | |
| Professor Al Greenburg's letter to Ed regarding his meeting with Gen. MacArthur at the Waldorf Astoria | The Ramsey Guerrilla March with words and Music by Eliseo P. Arevalo. Download the sheet music! |
| | |
| Letter from John Plaster regarding his book, "SOG: The Secret Wars of America's Commandoes in Vietnam" | Ed's birthday card from the USAFEE hospital in Bulacan on May 9, 1945 |
Letters, Communiques, Etc.
Liberation of Manila, Release of Detainees, Santo Tomas Hospital & Bilibid Prison
Recent Vists to Guerilla HQ
On a recent visit to the Philippines, San Diego attorney and WWII researcher John Wurst located the original site of Ed's guerilla headquarters in Maranat Falls. Below is his account of the visit along with photos taken of the location.
Dear Dr. Ramsey:

I just wanted to tell you that I went back up to Maranat Falls and met again with Nestor. This time I had a lot more time to explore and found the exact site of your husband's guerilla camp. As you may recall, last time we went, we met a man named "Nestor" up at the falls whose name is actually Nestor Altamia. I gave him your husband's book and he was astonished, as nobody knew anything about it. When my girlfriend Rovie contacted him through his organization the "Maranat Environmental Society" prior to our trip, he remembered me and was excited to take me back up to his campground which is adjacent to Maranat Falls. Since I gave him the book, he has found a lot more clues.

The area that was your husband's guerilla camp is described in his book as well hidden under a canopy of trees and could not be seen from the air. However, today, the area is more or less a grassland because of deforestation. It is Tatay Nestor's life work to plant native trees of the Philippines in the area to bring the area back to its original condition. Tatay Nestor has a lot of volunteers working for him, they all live up at his camp which consists of several structures Tatay Nestor erected but in Philippines style, it is very spartan. Tatay Nestor's camp is probably a few hundred meters from where your husband's camp was. He and his son live there and they have a lot of teenage kids and kids in their early twenties who volunteer planting trees. A really nice group!

Anyway, we hiked up there (really tough, about killed me!) and arrived early. Tatay Nestor found what he believes was the location of the two .50 caliber machine guns at the base of the top of the falls, based on artificial holes dug at the base of the falls, the guns were arranged to create a crossfire at the base of the falls. Since giving him the book, he has found odds and ends like old morphine bottles, bayonettes, old utensils and bottles, all seemingly from the 1940s. However, there are no structures or even signs of structures described in the book. He did tell me that Negritos lived in the area and probably stripped everything of value long ago. Tatay Nestor is half Negrito and as your husband's book points out, they have incredible strength and stamina for their small size, and Tatay Nestor is in remarkable shape for a man in his late 50s (put me to shame on the hike).

I have attached some photos of the trip, the last two are the exact area of the camp based on descriptions in the book. Tatay Nestor and his wife and kids have a small store in a village at the start of the trail. I must say, I was overwhelmed by everyone's hospitality there, it was really remarkable. They wanted nothing from me in return for spending a whole day with me guiding me up to the falls but I insisted and gave his organization a nice contribution at the end of the trip. They even slaughtered a chicken and cooked a feast in my honor, I am not sure I want to see that again! They take their work of reforesting the area very seriously but simultaneously, people continue to burn down the forest to create farmland. I am going to start a website for them which they are excited about. With your permission, I will link the website about your husband on their website. I have more photos and video if you are interested, but they would have to be sent separately due to their size.

On another subject, I am happy to tell you that my daughter Emily Wurst was accepted to UCSD, Revelle College! We are all very excited and she will start this September.

Take care and Happy Memorial Day!

John Wurst