(Click on any link or image below)
Military Associations - Cavalry
26th Cavalry Memorial
| | |
| --- | --- |
| | |
| 2nd Squadron Sgt. Major | 26th Cavalry Memorial Polo Team |
| | |
| Generals Pugh and Alger | 26th Cav. Memorial Polo Game at Alabang Polo Club |

U.S. Horse Cavalry Association, 1990 Reunion
| | |
| --- | --- |
| | |
| Ed Ramsey Speaking | 1990 Reunion |
| | |
| Cavalry Punch Bowl Ceremony | Raquel Ramsey Entertaining |
| | |
| VIP Guests | Burt Kennedy, Mike Wayne, LTG Teddy Allen |
USCA - 2004 Bivouac
17th Cavalry Regiment
U.S. Horse Cavalry Association, Sept 2014 Bivouac at Fort Reno, El Reno OK
Event Poster
Fiddlers Green Ceremony Program, page 1
Fiddlers Green Ceremony Program, page 2
Doug and Raqui at the Cavalry Banquet on Sept. 21, 2014
BG Phil Bolte, Chairman of the U.S. Cavalry Assoc and Al Klugiewicz, WW II Cavalry Trooper, long time friends of Ed and Raqui
Cpt. Bill Tempero, Pres U.S. Cavalry Assoc with Raqui during the Pass in Review of the Cavalry Horse Platoons in Fort Reno, OK
Bobby and Bob Seals with Raqui at the Fort Reno Chapel during the Fiddlers Green Ceremony honoring Ed Ramsey
Sam Myers, Board member of the U.S. Cavalry Assoc with Raqui during the Cavalry Banquet
Raqui between Sam and Leslie Myers during the Cavalry Banquet in Fort Reno, OK on Sept. 20, 2014
Mr.& Mrs. Fred Klink during Raqui's book signing at the Punch Bowl Ceremony in Fort Reno, OK Sept. 19, 2014
Fred Klink, VP U.S. Cavalry Association and his wife join Raqui during the Cavalry banquet
Raqui writes, "Chaplain Copeland spoke on Profiles in Leadership during the Fiddlers Green Ceremony on Sunday, Sept. 21 at the Chapel in Fort Reno, OK remembering the Troopers like my darling Ed who have joined their comrades in Fiddlers Green."
Chaplain Paul Scholtz
Byron Price, President of The University of Oklahoma Press with Doug and Raqui
L to R: Mr. Neil Heeney, Asst VP of Development, Univ of OK - Raqui - Maj. Kevin Weber, OU ROTC
Raqui signing Ed's books at the Headquarters of the U.S. Cavalry Association
Bobby and Bob Seals with Raqui at the U.S. Cavalry banquet on Sept. 20, 2014 in Fort Reno
U.S. Horse Cavalry Association, Raqui's Visit June 2016, Fort Reno, El Reno OK
| | |
| --- | --- |
| | |
| The new door to the stables | A closer look at the new door with USCA logo |
| | |
| Jeffrey L. Maahs and Raqui in front of the painting of the Last Cavalry Charge in the Museum | Raqui and Col. Bill Tempero touring the horse stables as they undergo reconstruction |
| | |
| Col. Sam Young, Editor, U.S. Cavalry Journal with Raqui beside Ed's uniform and boots at the U.S. Cavalry Museum | Col. Bill & Karen Tempere pose with Raqui beside Ed's book, uniform and boots |
U.S. Cavalry Journal, March 2017
The Last Horse-Mounted Charge of the U.S. Cavalry, 75th Anniversary

This article by USCA Trooper and Member of the 26th Cavalry (PS) Living Historians, Jeffery E. Jordan was published in the March issue of the Journal.
The United States Cavalry Association

The USCA, founded in 1976, is dedicated to preserving the traditions of the U.S. Cavalry. Please click HERE if you'd like to visit the Association's website.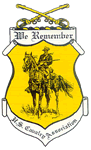 U.S. Horse Cavalry Association
Raqui's Visit September 2017, Fort Reno, El Reno OK
| | |
| --- | --- |
| | |
| Col. Sam Young, Maj. Bob Seals and Trooper Tim Riley with Raqui | |
| | |
| Col. Sam Young, Editor, U.S. Cavalry Journal with Raqui | Trooper Al Klugiewicz (at 101!) with Raqui |
| | |
| Trooper Al and Raqui at the banquet | Raqui with Trooper Al and Bob Seals |
| | |
| A plaque in memory of Ed at the Barney stable | Bob Seals with Al Klugiewicz |
| | |
| Raqui at the banquet with Al Klugiewicz and son Tim. Photo courtesy of Greg Klugiewicz. | Cavalry Medal Awardees |
| | |
| Raqui with Champagne at the Punch Bowl Ceremony | Raqui holding Ed's book and DVD of Never Surrender in the Cavalry Museum |
| | |
| Ed's Bio in the Museum | Next to the Barney Stall dedicated to Ed |
| | |
| Near the Entrance to the USCA Stables | In the Stables, US Cavalry Association |
| | |
| Cavalry action, courtesy of Greg Klugiewicz | Cavalry action, courtesy of Greg Klugiewicz |
| | |
| Cavalry action, courtesy of Greg Klugiewicz | Cavalry action, courtesy of Greg Klugiewicz |
| | |
| Cavalry action, courtesy of Greg Klugiewicz | Cavalry action, courtesy of Greg Klugiewicz. |