Ed in the Media - Never Surrender: The Ed Ramsey Story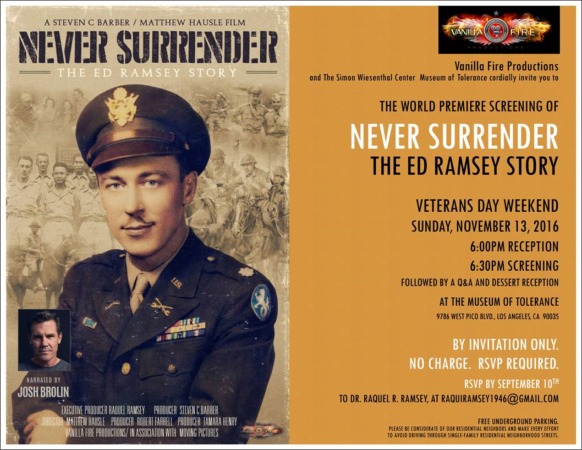 Reprinted with permission:


OCTOBER 5 - 11, 2016 PHILIPPINE MEDIA - LOS ANGELES


Oscar nominated actor Josh Brolin attaches as narrator for Vanilla Fire's full feature documentary 'Never Surrender: The Ed Ramsey Story'

Vanilla Fire Productions, a full documentary feature and commercial production company, is pleased to announce the completion of their sixth feature documentary Never Surrender: The Ed Ramsey Story.

A-list actor Josh Brolin's melodic voice serves as the noble narration to this epic tale of courage, bravery and intestinal fortitude. Col. Edwin Price Ramsey, who lead the last cavalry charge in United States Army history, is the subject of this larger-than-life story.

The documentary is based on the wildly successful book written by Edwin PriceRamsey & Oscar nominated screen writer Stephen J. Rivele called "Lieutenant Ramsey's War."

Rivele was nominated for Oscar for his colorful depiction of Oliver Stone's Nixon portrayed by Anthony Hopkins.

The feature film rights were also optioned by a movie studio in the mid 90's but the film was never produced and all of the rights have been returned to Dr. Raquel Ramsey, the widow of Col Ramsey.

Dr. Ramsey serves as co executive producer of this Oscar qualified documentary along with CEO and co-founder of Vanilla Fire Productions, filmmaker Steven C. Barber. Cofounder of Vanilla Fire Productions Tamara Henry serves as producer, and sitting in the director's chair is filmmaker Matthew Hausle in his second directorial spot coming off the very successful Netflix acquired documentary Until They Are Home (2012 Oscar Shortlist) narrated by Kelsey Grammer.

Oscar winning director and editor John Travers is writing this epic tale of heroism. This is Mr. Traver's second collaboration with Vanilla Fire Productions. Travers also wrote and edited The Carrier, the story about the first NCAA basketball game held aboard a nuclear aircraft carrier, The Carl Vinson.

Song writer Edwin McCain has written an original song for Never Surrender called "I'm Back," which will be considered for Academy qualification for Best Original Song in a full feature documentary. Mr. McCain's songs "I'll Be" (1998) and "I Could Not Ask For More" (1999) were both Top 40 hits and five of his albums have reached The Billboard 200.

The musical genius of Jamie Dunlap will be the original score, which will be for Best Original Score. Mr. Dunlap was Oscar shortlisted in 2012 for his original score for Until They Are Home and is reprising his role for Vanilla Fire Productions. Dunlap is also known for his 16-year-run on the hit television show South Park, winning a BMI Award in 2012. Dunlap has produced over 1,000 compositions for television and film including Little Miss Sunshine, Walk The Line, Wedding Crashers and The Sixth Sense.

Country music singer Kenny C. has also written an original song for the film called Colors Of Freedom with Tammy Cash singing backup on the song. Tamara Henry (aka Tammy Cash) will also be singing The National Anthem on stage at the opening of the premiere of Never Surrender on Veterans Day Weekend Sunday November 13th at the Simon Wiesenthal Center in Los Angeles.

This is the third run at the Oscar race for the fiercely independent film company Vanilla Fire Productions as they continue to tell the amazing stories of great and patriotic Americans at the highest level. Vanilla Fire has been producing films for over ten years and continues to attract the talents of Josh Brolin, Ed Harris, Kelsey Grammer, Dan Aykroyd, John Savage and Joe Mantegna.

Vanilla Fire's debut film Unbeaten (www.unbeatenthemovie.com) was listed on TIME magazine's Top 10 Summer Olympic films of all time. (http://olympics.time. com/2012/07/09/top-10-summer-olympicsfilms/slide/unbeaten-2009/)

Vanilla Fire has had two films previously shortlisted in 2010 and 2012. Vanilla Fire will also be debuting the film world's first "Military 6 Pack" with all six films bundled in one package of six DVDs. Available soon in Walmart, Target, Costco and Best Buy.

Vanilla Fire will be premiering Never Surrender to a sold out audience at the Simon Wiesenthal Center Museum on Sunday November 13th at 6pm during Veterans Day Weekend. Vanilla Fire would like to extend a huge thank you to Rabbi Abraham Cooper, Associate Dean of the Simon Wiesenthal Center Museum of Tolerance, who so graciously arranged what will be the third major première for Vanilla Fire Productions.

This star studded red carpet event will be the Premiere of Never Surrender: The Ed Ramsey Story and RSVPs by Josh Brolin, Joe Mantegna, Frank Stallone, Kenny C, Tammy Cash and others will light up this historic evening.

For more information on Vanilla Fire Productions go to www.vanillafire.com and vanillafire.weebly.com Never Surrender: The Ed Ramsey Story movie trailer: https://youtu.be/nNk2fZAmkFs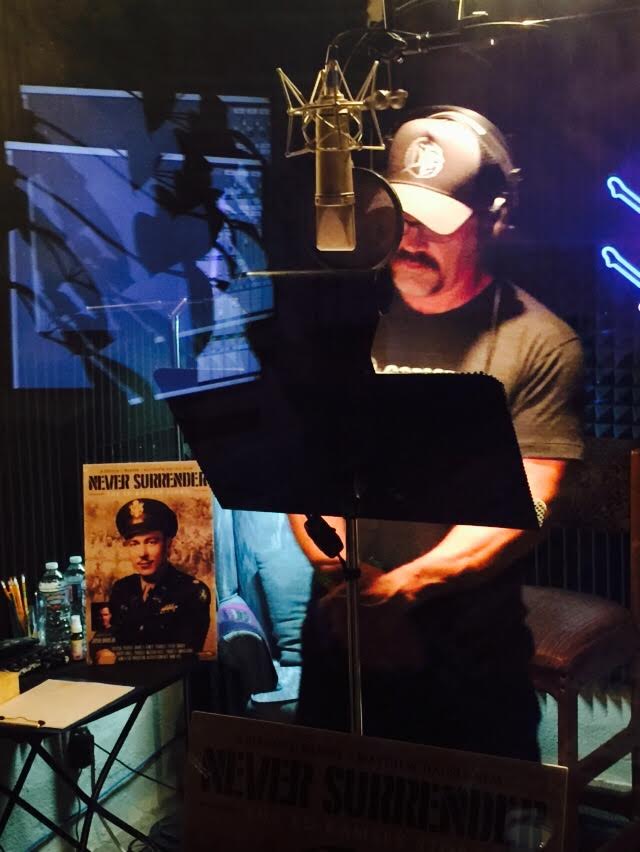 Josh Brolin, providing narration to the film.
The Premiere of Never Surrender was held on Sunday, Nov. 13, 2016 by invitation only. The public was invited to view the film from Sept. 23-29 on a full schedule (4 screenings per day between Noon and 10:00 PM) at the Laemmle's Music Hall in Beverly Hills. CA. It was entered into the documentary category in the Academy of Motion Pictures and Sciences for 2016. As of January 2017, the Edwin McCain song entitled "I'm Back" that was featured in the film is on the Oscar short list for Best Original Song!

For DVD Sales: Please contact Raqui Ramsey for information.
May 2017
PRESS RELEASE: SNAGFILMS Premiers Never Surrender: The Ed Ramsey Story narrated by Josh Brolin in time for Memorial Day Weekend

[ SnagFilms content can be streamed online, via Apple TV, Google Play, Windows 8, XBOX 360, ROKU, iOs, Android devices, Amazon Kindle, SONY & Panasonic Televisions. ]

WASHINGTON, DC and New York, NY -- EMBARGOED FOR 12pm EST Friday May 26, 2017 - SnagFilms, the leading platform for philanthropic documentary and independent films announces today the premier of the Steven C Barber produced and Matthew Hausle directed documentary, Never Surrender: The Ed Ramsey Story (2016 Oscar Shortlist) on Snagfilms.com on Monday, May 29th 2017 at 9am EST on:

http://www.snagfilms.com/films/title/never-surrender-the-ed-ramsey-story

Released just in time for Memorial Day, Never Surrender: The Ed Ramsey Story documents an unsung World War II hero's tale of sacrifice and survival and celebrates the spirits of remembrance of the individuals who fought and died for the United States in military pursuits. The documentary centers on the never before told story of Lt. Col. Edwin P. Ramsey, who in 1942 coordinated the final horse-mounted cavalry charge in US army history. More significantly, after the fall of Bataan, Ramsey refused to surrender and became a member of the Filipino resistance and ultimately commanded over 40,000 Filipino guerilla troops against Japan. As a result, Ramsey provided essential information to General Douglas MacArthur, for which he won the Distinguished Service Cross.

Director Hausle (Until They Are Home) and Producer Barber (Return to Tarawa, Unbeaten, The Carrier) cast Holloywood actor Josh Brolin (Wall Street, Milk, No Country for Old Men) as narrator who strings together the life of Ramsey alongside real life players including Alice Benitez, Mike Bills, Abraham Cooper and Dan Figuracion among others. The film was originally released in November 2016 by Moving Pictures Production Co. The soundtrack features the score titled, "I'm Back", which was written and performed by Edwin McCain as well as the Kenny G original song "Colors of Freedom". Daniel M. Gold of the New York Times deemed the film "an overdue Paean to a War Hero".
---
November 2016

From the Premiere of Never Surrender: The Ed Ramsey Story

Photos taken at the Premier event are below. Please click on the thumbnails below for a closer look!
| | |
| --- | --- |
| | |
| Rabbi Abraham Cooper Offering Some Opening Remarks | Q&A Session with Raqui and Director Matthew Hausle |
| | |
| Philippine Scouts Cavalry Mounted Unit | Producers Steven Barbara and Tamara Henry with Raqui's Family and Doug Ramsey at the Red Carpet |
---
August 2017

A screening of Never Surrender: The Ed Ramsey Story was held on August 5th, 2017 at the Montecito estate of Patrick Nesbitt by Steve Barber and members of the Vanilla Fire Productions team.

Related Links:

Arrivals Video by Jesse Torrero (Facebook)
The Pat Nesbitt Santa Barbara Mansion, which is for sale... (LA Times)
September 2017 - PR Appearances
---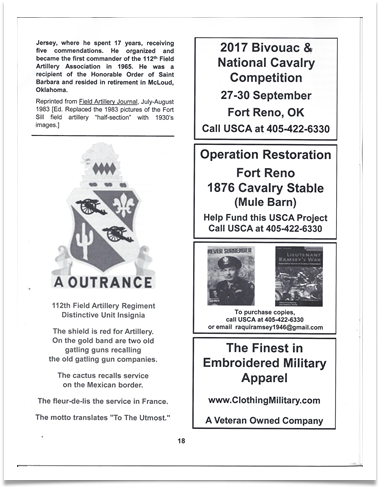 Announcement and PR in the US Cavalry Journal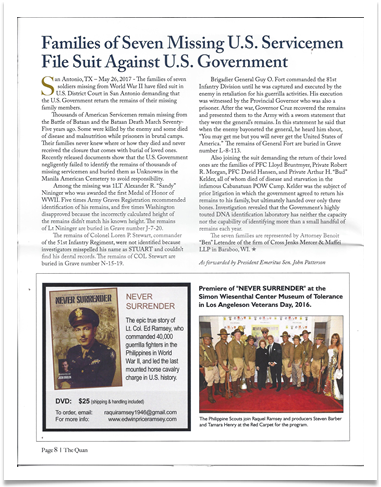 PR for Never Surrender in The Quan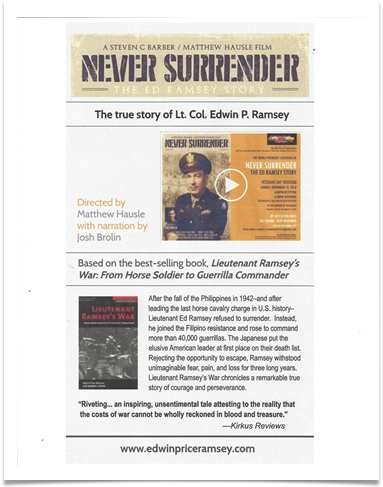 Ads for the Documentary and Book Appearing in American Library Association Media
May 8, 2017 - The Reagan Library
A special event was held at the Reagan Libary and Museum in Simi Valley, California in part to commemorate Ed's 100th birthday. The event included a screening of the documentary "Never Surrender: The Ed Ramsey Story". The Reagan Foundation website announced the event this way:
Please join Filmmaker Steven Barber, Director Matthew Hausle, and Executive Producer Dr. Raquel Ramsey for the screening of the Oscar Shortlisted film, Never Surrender, the true story of Lt. Col. Edwin P. Ramsey, who in 1942 led the last cavalry charge in U.S. army history, and commanded more than 40,000 guerrilla troops against the Japanese.

Doors for the event will open at 5:00 p.m., and the movie will begin at 5:30 p.m., followed by Q&A with the film's filmmaker, director and executive producer. Prior to the event, the National Anthem will be sung by Tammy Cash. Special appearances at the event include the Filipino scouts, as well as Robert Tidwell who portrays General MacArthur in the documentary.

This event is free to attend and will be located in the Reagan Library's Presidential Learning Center auditorium. All are welcome. No reservations are required.
An invitation link was also sent to those specifically attending the commemoration:
Here are a few photos from the event:
| | | |
| --- | --- | --- |
| | | |
| | Dr. Bruce & Debbie Powell join me at the reception and screening | |
| | | |
| | | Table One with (L-R): Adriana Ramirez, Judy Arevalo, Sue Greenblatt, Dick Greenblatt, Raqui, Adm. Lee & Roz Levenson |
| | | |
| Raqui with Judy Arevalo, sister of Adriana Ramirez | Reagan Library Staff pose with Raqui & Ramirez Family | Camp Pendleton Marines, Never Surrender producers & Raqui (photo: William Kidstone) |
---