The Memorial Service for Edwin Price Ramsey
St. Paul the Apostle Catholic Church, California
March 14, 2013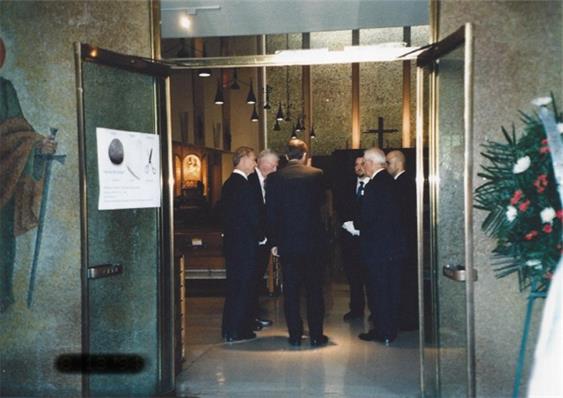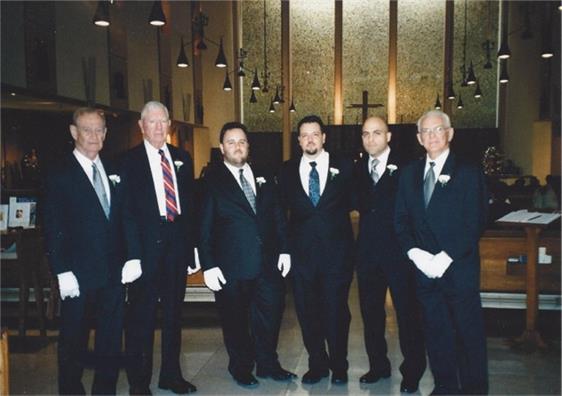 Pall bearers facing front and L to R: Dick Greenblatt, Admiral Lee levenson, Stephen Ramsey, James Ramsey, Daniel Ramirez and Ed Ward.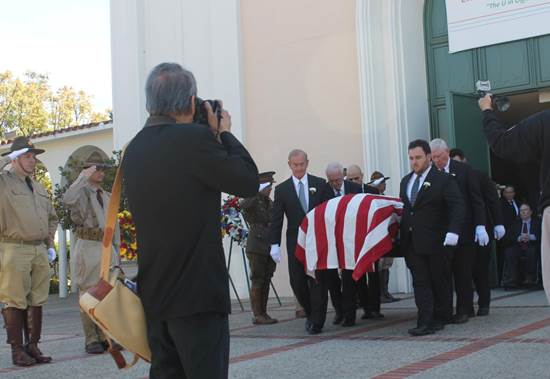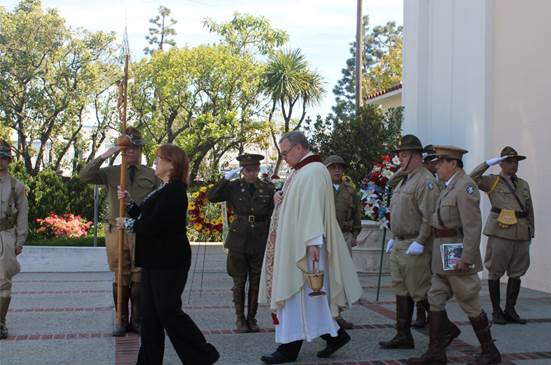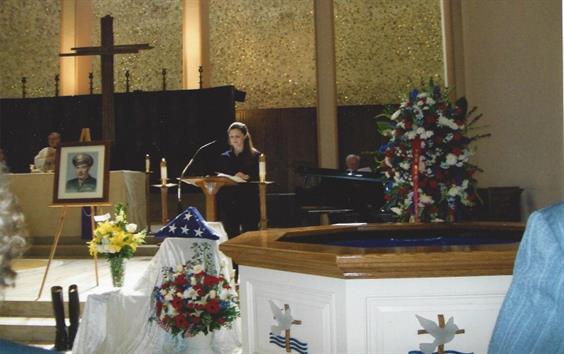 ---
Eulogy delivered by Col. Edwin Ramsey Jr., Ed's eldest son, during the memorial service at St. Paul the Apostle Catholic church,
March 14, 2013:
For those of you who may not know me, my name is Ed Ramsey Jr., and I am Ed's eldest son.

I would like to begin by thanking all of you for being here today and spending time with our family to reminisce and honor my father.

Dad worked very hard until late in life, but he did not like to talk about himself, particularly the past. Occasionally we would get a glimpse of his past either before or during the war. But unless he was talking about his sister (Aunt Nadine, the WWII pilot in the WASPs) or mother (Mimi) we did not get a lot of specifics about the period leading up to and including the war and early post war period. So we had to ask Mom, Mimi or Nadine for the details with which most of you by now are very familiar. In addition to the fact that he was one of the last horse cavalrymen, he was a very good polo player until he shattered his shoulder playing polo in his sixty's and had to finally give it up. It is no surprise, however, that he continued to ride horses almost into his nineties.

Shortly before we moved to Japan in 1959, I asked my father why he was considered a war hero by his friends and the Filipino people. His answer really surprised me. He said that I should not be so impressed with the word "hero" because a hero is really almost anyone who is in the wrong place at the wrong time and does the right thing. He said he was caught during the war in a position which called for him to do the right thing, and do his job, and that the real heroes were all the soldiers and civilian Filipino's who sacrificed their lives to keep him safe and bog down the Japanese occupation forces so they could not be sent to other war locations to kill Allied soldiers. Dad was to spend almost the rest of his life campaigning to get back the veterans' benefits of all soldiers in the Philippines who had been American Army and Navy personnel. And he lived to see that finally happen a couple of years ago. This was certainly his most satisfying accomplishment outside of his family.

Another thought that comes to mind is one that might surprise you. For as politically conservative as Dad was, his most central conviction, expressed to me when I was young, was the Latin phrase "IN MEDIO STAT VIRTUS" (Virtue stands in the middle). He explained to us that responsible human beings can only live together in peace and justice when they find common ground, come from their opposing positions, and compromise.
As a business man in Japan, my father worked with many Japanese executives who had fought against him during the war. His work helped expand both the American and Japanese electronics industries. Dad lived the example of an honest, ethical, caring human being who worked hard to be successful and wanted very much for his children to do the same. He was given to bragging about how accomplished we were and how proud he was of us. It was very rewarding for us to find out that he felt this way. What he thought of us has always been very important.

I must also tell you that my father came late to the Catholic Church, converting from his Baptist upbringing when he met and married the love of his life, Raquel, in 1979. Her love and selfless example so captivated Dad that he transformed his relationship with God to one that each day was closer and more focused on God and what God wanted him to accomplish in the later years of his life. This brought my father a great deal of peace. It also redoubled his love for Raquel.

Finally, my father was a fighter and a survivor. He survived ambushes, bombardments, dysentery, malaria, and the removal of a ruptured appendix (without anesthesia) during World War II, and he fought back to make it possible for the Philippines to be retaken by General MacArthur with much less loss of Allied lives than would otherwise have been spent in that campaign. He survived so well during the war, that at one point he was reported dead to his mother and managed to surface alive and well. Dad also fought off two heart attacks, survived two open heart surgeries came back from several minor strokes, and lived through a very serious motorcycle accident in the Caribbean. His strength of purpose and his will to live were an inspiration to all of us.

Dad, I know you are watching now, and that you will watch over us always. We love you.